Research update: our fin catalogue is completed!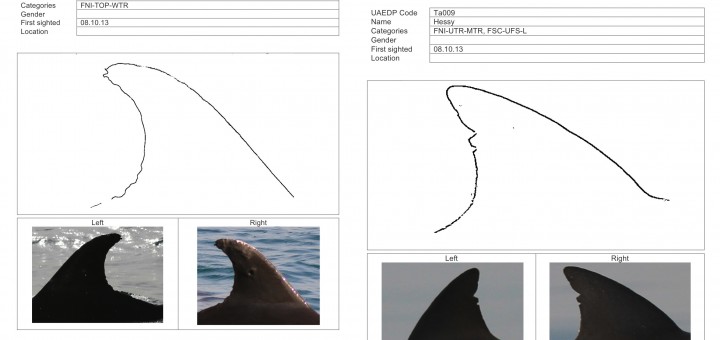 It is not easy to manage over 7300 pictures, especially when they need to be carefully compared one to each other to check whether the fins are the same! But eventually we made it and we can now announce that our fin catalogue of the humpback and the bottlenose dolphins, we encountered in Dubai waters during our 2014 boat based survey, is completed!
After multiple cross checking we have identified 89 Indo Pacific bottlenose dolphins and 23 humpback dolphins and many of them have been resighted more than once suggesting that they are quite resident in this area. Individual dolphins are recognisable by the shape and characteristics of their dorsal fins that tend to accumulate scars and notches throughout their life. This allow researchers to univocally identify them and utilise these data to estimate the population size, follow the movements of the individuals, study their social structure and estimate calf survival.
It has been the result of an massive effort and determination of many student volunteers that since summer 2014 dedicated their time to meticulously compare hundreds of picture. Thank you to Shamsa, Veronica, Francesca, Joanne, Sara, Sarah, Emma, Sudha, Akshata, Zuzanna. A special thanks goes to Camilla that developed the matching protocol and Ayse that with infinite patience double checked and finalised all the data and produced the final version of our catalogue.
While still working on on our scientific data, it is your turn to send us your pictures and help us to track their movements. REPORT YOUR SIGHTINGS!
The catalogue will be made public as soon as the survey data will be published.