Dr. Ada Natoli
Project director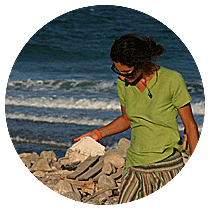 Ada is a specialist in population genetics with a passionate interest in conservation of species. Her main interests are investigating the evolutionary mechanisms generating population structure, and supporting conservation and management programs.
Ada holds a degree in Biology and a PhD from the University of Durham, UK, on the molecular ecology of bottlenose and common dolphins, comparing these species and their population structure on a worldwide scale, in the Mediterranean Sea and South Africa. She spent a number of year conducting field research on several projects monitoring the cetacean population in the Mediterranean Sea and Canary Islands for Tethys Research Institute and has published numerous articles in peer-reviewed scientific journals.
She is a member of the IUCN/SSC Cetacean Specialist Group and she has participated to the International Whaling Commission as member of the Italian delegation and invited participant. She is involved in the conservation of cetaceans in the ACCOBAMS area. Ada joined the Biology Department at UAE University as Adjunct Assistant Professor (no-salary based position) in 2010 with the aim to promote the field of conservation genetic in the local academic environment.
Traill Stocker
Research assistant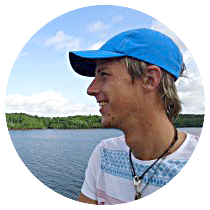 Having grown up in South Africa, surrounded by magnificent flora and fauna working with wildlife was a passion from a very early age. Traill began volunteering with various organizations from his early teens, working with a wide variety of primates, birds and exotic cats. His full time career began training birds for free flight bird shows and educational presentations for a bone-fide facility in Johannesburg. Traill then ventured into wildlife rehabilitation, working with a ample variety of animals in rescue and release. During this time he also gained a diploma in animal behavior, which led him to working in Dubai. Since his time here Traill has been involved in assisting with shark research as well as monitoring dolphin populations in Oman.

Valérie Arwacher
Valérie is a specialist in corporate communication and environmental public relations with a passion for the marine environment and cetaceans. Over the last 17 years Valérie has worked in communication's management in several French companies, and she has been an active member of Cetus, a French association dedicated to the study and protection of cetaceans in the Mediterranean Sea. She holds a Bachelor's degree in Management Assistance and Corporate Communication from the CELSA-Sorbonne University, France, that she achieved completing a thesis on "Dolphins in the business communication". She subsequently completed a Master's degree (French DESS) in Environmental Public Relations, University of Cergy-Pontoise, France, conducting a study on sustainable development of road transport companies.
Dr. Amanda Hodgson
Amanda
is a Post Doctoral Fellow working at the Cetacean Research Unit, Murdoch University, Australia, specialised in marine mammal boat and aerial surveys and she has worked extensively on dugong behaviour and their response to human activity. Amanda is collaborating with the project team to design and implement the transect survey analysis.
Prof. Kenneth Pollock Ken is professor of Biology, Biomathematics and Statistics at North Carolina State University, USA and adjunct professor at Murdoch University, Australia. Ken is an international expert on sampling animal populations. His passion is to work at the interface of biology and statistics to improve the science practiced by fisheries, wildlife and conservation biologists. Ken is collaborating with the project team to design and implement the transect survey analysis.
Dr. Karen Stockin
Karen
is the Director of the Coastal Marine Research Group and Senior Lecturer in Marine Ecology at the Institute of Natural Sciences, Massey University, New Zealand. Her research focus is marine mammals and their interactions with the ecosystem and specific interests include the examination of anthropogenic impacts including tourism, pollution and fisheries. Karen is the project advisor for stranding and necropsy techniques